Happening Now in New York City
Looking at the magnificent designs of One and Two World Trade Center buildings, we are reminded that architecture has always been a public expression of current social and cultural trends and values.  Sometimes that trend looks back to a "better" or less complicated era, or a time when life seemed to be more meaningful  in some way. Sometimes it looks forward with hope for a better future.  If you want to get a read on the mindset of a community, take a look at the designs that you see popping up in architecture and look at the interior styles you'll find in magazines.  Of course, skyscrapers have pretty much always been cutting edge and contemporary in design.  But it's happening everywhere now!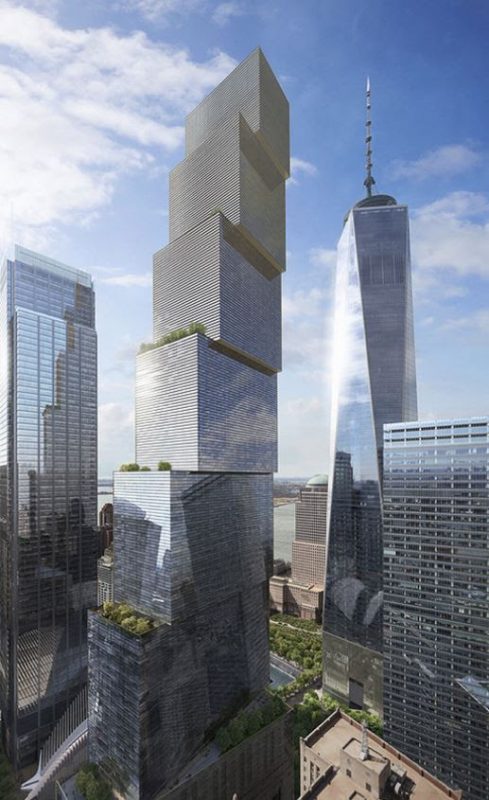 This past week, we remembered the unspeakable tragedy of the attacks on 9/11, and realize once again the changes that those attacks have made in our lives., One WTC (which is a symbolic 1776 feet tall) was completed this year, 14 years after the tragedy of 9/11.  Two WTC (seen in this artist's rendering), which is slated for completion in 2020, is yet another example of our country's determination to go forward and to "Never Forget".
Recent Design History
In the recent "Tuscan" revival design craze here in the U.S., it seems that the economic recession we suffered and our subsequent retrospection on how we got to such a place in the U.S.A. affected our taste in architecture and design. We might have been yearning for a simpler time, in which truth in materials and a reverence for history and family lead to a captivation with the rural Italian styles we came to call "Tuscan". The style strove to instantly create a look that can only be genuinely created over generations of time.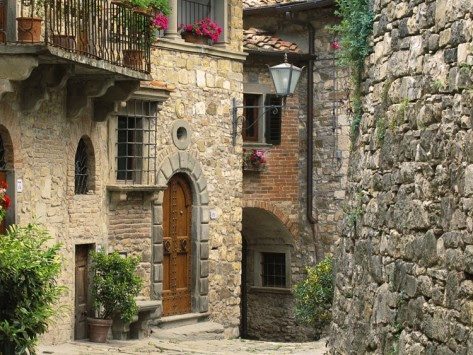 Tuscan, as charming as it is in Italy, is no longer a popular look here in the desert. It is difficult to execute the look in an authentic way, and we are moving toward Contemporary in architecture and design.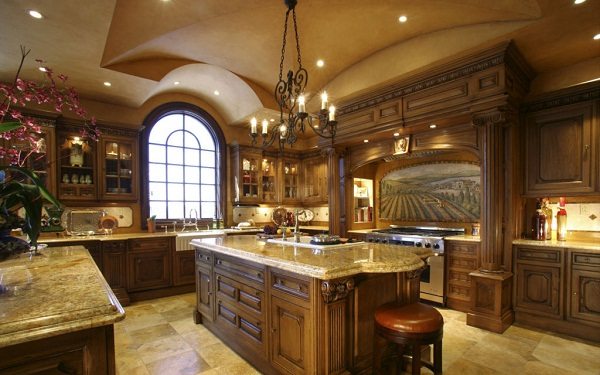 This Tuscan-style kitchen has a "grand" and heavy feeling, in contrast to more casual, clean and simple contemporary designs that we are seeing more of lately.
The New Contemporary Look
However, Contemporary design is what's making the news right now, and even die-hard proponents of traditional architecture are finding themselves drawn to the clean and simple lines.  There are several things leading to this huge trend.   I think Millennials have naturally grown up with a penchant for contemporary design; many are leaders now in media based businesses and are style-setters, and older generations are seeing the appeal.
Empty Nesters, a growing segment of our population, find themselves with too much "stuff" and a desire to purge.  The older population, Baby Boomers, want to downsize and clean up the clutter.  All in all, "Contemporary" is a simplifying trend across the board and it's not going away.
A more minimalist approach to interior design (aka contemporary) allows us to express ourselves without displaying all of the "stuff" we used to fill our lives with. Commonly seen are very clean and sometimes crisp lines, often solid colors and textures mixed with a  pop of pattern and color, and everything is very well organized.  Only the really important  personal items are allowed on display, and every space doesn't need to be filled!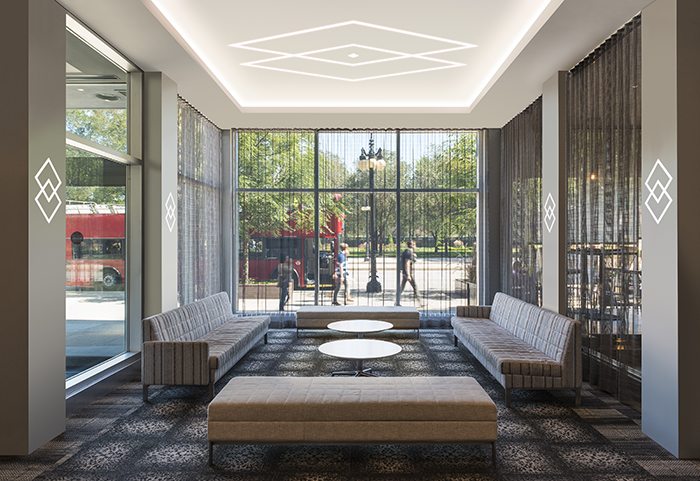 Lighting is also of utmost importance in creating the right mood in any space, but it is especially relevant in contemporary design, because of the lack of clutter to distract the eye!
Lighting in any environment affects our mood, probably more than most people recognize, and believe me, a well-lit contemporary space with beautifully balanced lighting is as warm and inviting as a space in any of the more traditional design styles we might have grown up with.
This contemporary kitchen is unique with its white and stainless materials, and a warm wood floor, and keeps a contemporary, minimalist theme throughout.
So where is the line between simple design and boring design?  Using contrasting colors like black and white in an interesting way, and blending textures and patterns can keep a space exciting. And, as always, good lighting, with the ability to adjust it at the touch of a button, makes a world of difference in setting the mood we want in a room.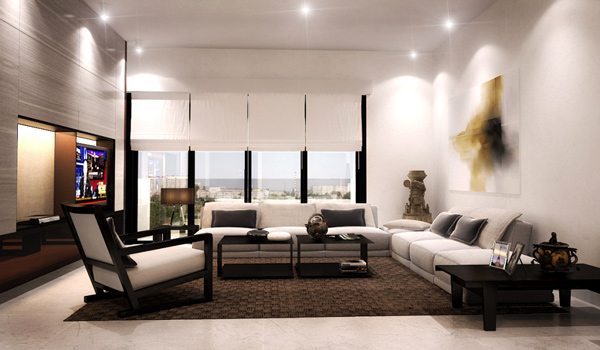 The large windows in this living room, paired with the overhead lighting enhance the color contrast in the room in an open and relaxing way.
Not that all contemporary style is the same, as evidenced in the variety of clean-lined styles we see under the title "Mid-Century Modern"!  I often hear people refer to furniture looking "like the Jetsons", whose style was a 1960's space-age adaptation of Danish-Modern, popular in the middle of the 20th century.
Mid-Century Modern style was immortalized in the Jetsons cartoon and has enjoyed a resurgence in recent years.
Another example of Mid-Century Modern might incorporate the always popular Barcelona chair, which seems to fit in any space and feel right at home.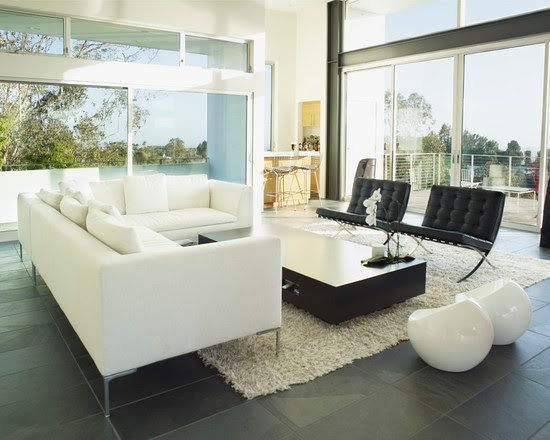 A more restrained contemporary look sticks to straighter lines and open floor plans, often featuring the Barcelona chair.
The Future of Contemporary Design
All in all, "Contemporary", as a broad term to describe an architectural and interior design style, is part of our lives in a way that it has never been before, and it is appreciated and applauded by people from all walks of life, from all over the world.  As a result of globalization.….(we all see the same images, watch the same You Tube, buy the same products),  our STYLE is no longer limited to certain geographic areas.   More and more, we find ourselves emulating and using Italian furnishings, finding a new appreciation for Danish Modern furniture styles, discovering contemporary area rugs made in Morocco or Nepal, and integrating finely-engineered German light fixtures into our homes…no matter where we live.
We can't help ourselves; we are influenced by everything we see…………….and what we are seeing is definitely Contemporary!