Entering competitions is a tedious process, but worth it for the recognition it gives us as winners in the design community.  Last month we attended the annual Arizona ASID (American Society of Interior Designers) design competition, held at the Phoenician Hotel, and walked away with 3 big awards!  The entries were judged by other ASID chapters in Florida and Texas, and are completely anonymous.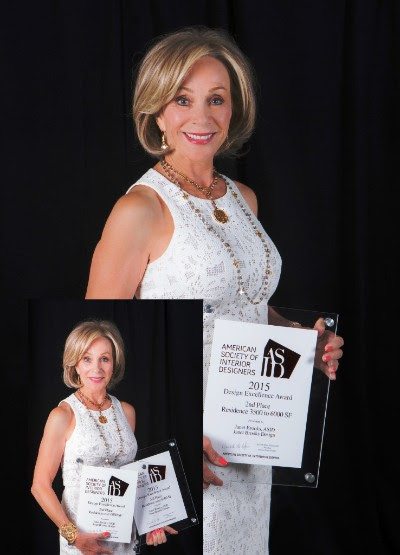 ASID is an important part of our professional lives as interior designers.  Did you know?  A person can only use the designation "ASID" after their name if they have successfully completed a grueling 16-hour exam (called the NCIDQ, National Council for Interior Design Qualification) covering all aspects of interior design practices, skills and codes.  On the other hand, "Allied ASID" after someone's name only means the person has worked as a designer for a certain period of time and paid dues to the organization.
Janet Brooks Design was featured in the September issue of Arizona Foothills Magazine!  The article focused on a gorgeous library/music room in the adobe home we recently completed, analyzing the design ingredients of the room, and how it all came together.
Project Updates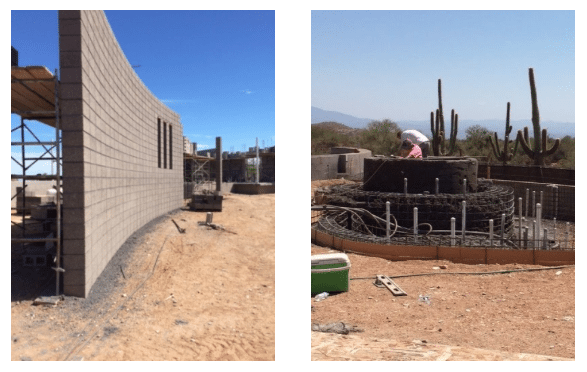 Our Radius Contemporary project, with architect Scott Carson of PHX Architecture and Salcito Custom Homes is getting more interesting by the day, as CMU walls and pool patio shapes are coming out of the ground.  I think this is why I love the interior design profession so much….there is always a point in time in the design-build process where we enjoy the thrill of seeing those shapes and materials we've been working on for so long actually come to life in tangible form!  And of course, the biggest thrill is seeing the wonder and excitement on our clients' faces as they see their dreams coming true!
We sometimes wonder just how many hours of meetings it takes to follow a project through from start to finish.  Whatever the number, one of the things we love the most is collaborating on our projects with talented and engaged team members.  Kevin Flower, a lighting consultant, whose hands you see on this architectural plan!, is one of those team members whose great attitude, endless patience and obvious talent makes every project a more successful venture.  With the non-stop changes to lighting that have been happening these past few years, there is so much to learn, and decisions that have to be made about how far to take the LED selections right now, while things are still changing practically daily.  Kevin knows how to educate our clients (and us) about the pros and cons to all the choices that have to be made.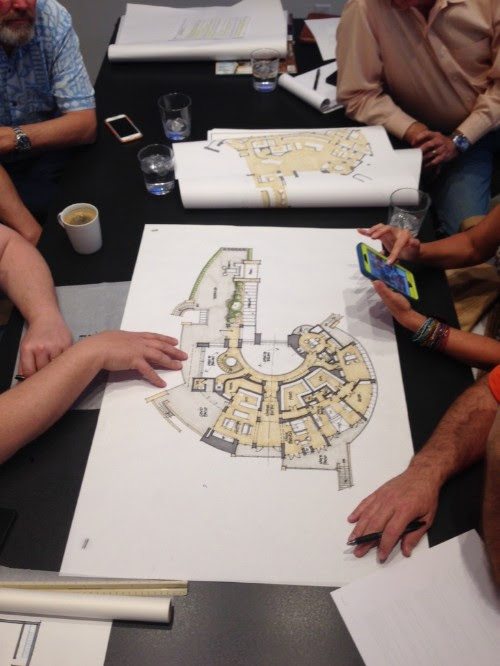 "Work sessions" are some of our favorite meetings.  Here we bring together the whole team, architect, builder, interior designer, landscape designer and clients….to hash out design ideas with contributions from every member of the team, which always results in exciting results.  "Two heads are better than one"…and seven heads are better yet!  Here we are working with architect, C.P. Drewett on a wonderfully unusual home in the desert, which started out 12 years ago as a helicopter and party bus barn, and is being repurposed into a two-story home.

Also, on this same project, landscape architect Russell Greey of Greey/Pickett has created this absolute wonderland of water and sports features for our clients and 100 of their best friends.  This design masterpiece defines the words "Desert Oasis"!

Our Desert Mediterranean home in Troon North is nearing completion and the builder is busy finishing up last minute details, such as setting the kitchen faucet.  Soon we will be installing furnishings and art, and our clients will be settling into their new home with views to die for!
We are just completing a large remodel, taking a very dated home in DC Ranch, Scottsdale, to a contemporary look.  The Hickory wood floor, which used to be a very warm, "yellowy" brown, has been refinished to a more taupe/gray color*.  The wall which is now a fireplace was previously only an entertainment cabinet.  The wonderfully irregular stone tiles are from Island Stone and is just one of their many cool selections.
*NOTE:  Although we are using a lot of engineered wood flooring these days and it definitely has its advantages, the downside of the engineered wood is that it cannot be completely refinished and changed like we were able to do with this solid wood flooring.
The tile we select for showers has changed a lot in the past few years.  Rather than the typical tumbled travertine or marble with horizontal accent bands which was popular for years, we are now using a lot of porcelain tile, which is durable, clean and contemporary looking, and comes in many cool visual patterns.  Our accent bands are now often done vertically, as in this photograph.  We love what this this glass, stone and metal mosaic tile does for the space – giving a lot of color, varying materials and geometric pattern to play off of in the rest of the room!

When putting together a "palette of color and pattern" at the beginning of a design project, we like to start out with an area rug as the basis of the design in each space.  Area rugs are a huge part of the overall look of a room and set the stage for everything else that will follow, including paint color, trim color, fabrics and leathers.  If we find an area rug that makes a client fall in love, we have literally been given a window into the design sensibility of our client, and we know the decisions for rest of the project will follow smoothly.