What's more fulfilling than seeing the interior design project work we've been doing for the past 18 months starting to show up installed at the jobsite?  Recently at our adobe house construction site in Whisper Rock, Scottsdale, we finally got to see the zinc hood over the range installed and looking great!  Now we are just trying to decide if it should be waxed or not.  We kind of like the "dry"  and aged look of the finish in its raw state, so we'll see…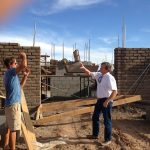 Tom Archer, the builder, and Clint Miller, the architect are both really great to work with.  What a treat it is to be on a design-build team with such talented and cooperative professionals.  It makes the process pleasurable for everyone, and the end result for the clients as good as it could possibly be.  Thanks to them for their teamwork!
The solid reclaimed wood floors (from an old barn in Pennsylvania) are starting to go in as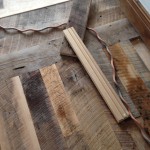 well, and they are beautiful.  We have been doing a lot of "engineered" wood floors lately, which are also very good looking, but there is nothing like the real deal – solid wood, which will be sanded and finished on site once it is all installed.  We have designed different patterns and sizes of boards in different rooms, with borders and transitions, and it's fun to see them taking shape!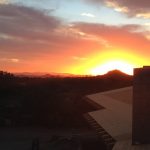 One of the things that has been a special treat while working on this home for our clients, is that Whisper Rock is such a beautiful, special place and it's a treat to go out to the house, with stunning views in every direction, and sunsets that blow our minds!  This particular sunset picture, taken from the second story deck, had everyone breathless.
So today when we went to the house for a visit (checking closet installations, deciding on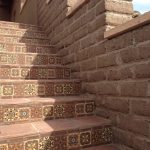 types of window treatments for each room, measuring a new spa patio slab for furniture) we saw that the back stairs to the upper deck had been installed.  We love how the decorative tile on the risers offers just enough pattern to be interesting, but isn't too bold or brightly colored to disrupt the earthy "flow" of the adobe material.  A secondary material used in this house is a thick natural limestone, which we not only used on the interior floors in most areas where we aren't using the reclaimed wood, but also as exterior "caps" on walls, as you can see in the picture to the right.  It's a great combination of earthy and elegant, rustic and classic that contributes to the overall "eclectic" look of the house!