The Well-Designed Kitchen and Bath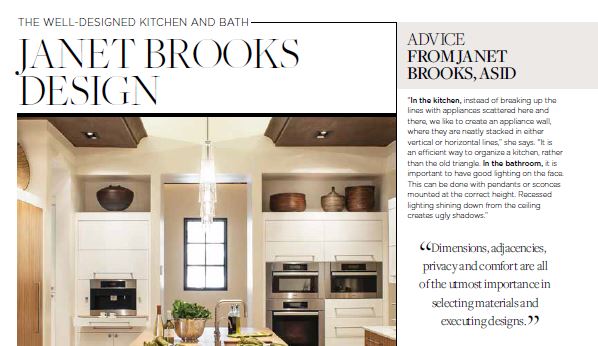 Given the need to perfect the balance of aesthetic and functional concerns, kitchen and bathroom spaces require consistent and thoughtful design.
"Try to limit the important elements in a room to no more than three," says Janet Brooks, principal of Janet Brooks Design. "Any more, and the eye doesn't know what to focus on, which creates a chaotic space."
A leading name in Arizona's residential design industry, the interior designer explains current trends in kitchen and bath.
"Clean lines and a more minimalist approach to design are so refreshing," she says. "I was never into a lot of accessorizing or cluttered spaces, so this trend is personally appealing to me."
Brooks goes on to identify a partnership between the design professional and homeowner as a key to success, saying, "Your designer should help you clarify exactly what ingredients are important in your kitchen and bathroom, from appliances and plumbing fixtures to types of storage."