Anyone who regularly drives up and down  Pima Rd. past Dynamite in North Scottsdale, has probably noticed this large curved building off to the west, sitting alone on a large tract of land, still sporting its gray unpainted stucco color for over a decade.   This building is now going to come to life, and Janet Brooks Design is delighted to be a part of it!
This structure was originally designed by Brissette Architects, and built by Ken Madden, formerly President, Founder and CEO of Shiloh Custom Homes, currently with Landmark West Builders.  This 16,000 sq.ft. building was designed for a race car driver, not as a custom home but as a glorified man-cave…..more appropriately called a "Man-Cathedral".  It was to include a garage for a helicopter and million dollar tour bus, a bowling alley, a shooting range, a theater, a pottery studio, (2) sterile bays for working on race cars, an office and workout facility, entertaining area and a 3-bedroom apartment.  The main residence was to be built later.
Janet Brooks Design is excited to be a part of the design team which has now been challenged to bring this building back to life as a single family residence for a prominent North Scottsdale physician.  The property will include a go-cart track, a horse barn and corral, and "cowgirl cave", among many other amenities.  We look forward to the design adventure ahead in this amazing transformation!
Good News for Janet Brooks Design!
We were honored to be the recipient of more than one award last month!  Many of you probably go to Houzz.com for design ideas and inspiration (and if you don't you should check it out!). We were recently awarded "Best of" in two categories:  Best of Houzz Design, which is based on popularity of photos (the number of times that the photo was saved to an Ideabook in the last year), and:   Best of Houzz Service, which is based on the number of reviews and the star rating of each review.  The awards are given annually to the top 3% of professionals who are professional members of Houzz.
Another honor Janet Brooks Design received is to be included in Luxe Interiors +Design's 2015 Gold List, which requires that the magazine choose one of our projects for an editorial. If you missed it, take a look at the feature on a home we designed in Desert Mountain!  Click here to view the full article
Renderings
Sometimes "a picture is worth a thousand words", so to speak!  While we as designers may have a clear picture in our heads of a vision for a project, it doesn't mean that our clients are sharing that vision using words alone.  This computer generated rendering (created in a program called Sketch Up)  greatly assisted our clients in understanding our proposed design direction for their master bedroom design.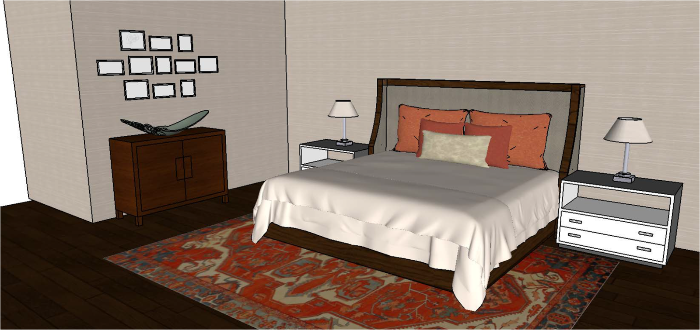 Designing Doors, Fireplaces, Ceiling Details, Built-In Millwork…
It's all part of what we do for our clients.  It's one thing to select an interior door style and use it throughout the entire home.  But we love to take advantage of opportunities to create something interesting for our clients…something that is uniquely theirs, and makes a statement about who they are!  This drawing represents our custom design for a client's theater entry doors.  The "film reel" will be executed in zinc metal, set into a walnut wood door.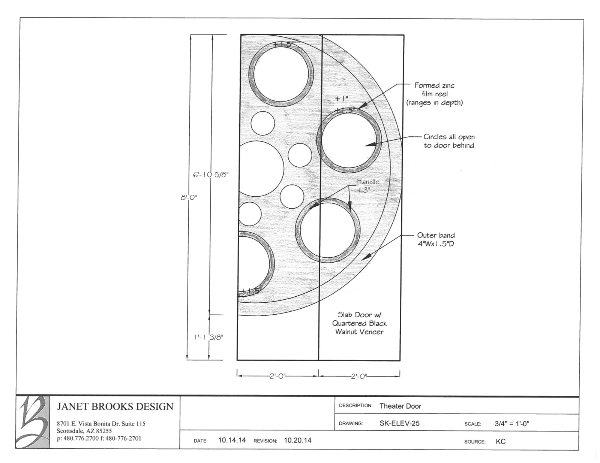 Team Meetings
Here we are In the middle of an all-day design session in our conference room with our clients who are building  in Prescott, Arizona.  It may look like a mess…. but all of those materials and drawings represent progress toward the creation of a gorgeous new home!