It's been a busy summer at Janet Brooks Design!

Phoenix Home & Garden, August 2015 issue, has featured our adobe project and given us the cover!  We are so happy to see this timeless design, so perfectly attuned to our clients' lifestyle, get such recognition.  We also feel that the caption on the cover, "Easygoing Elegance" captures the essence of our design intention, as with every project we are engaged in…to create an environment that is comfortable, inviting and unique,  no matter what the particular design genre.  Please enjoy the article if you haven't already picked up the magazine:   http://www.phgmag.com/home/furnishings/201508/the-elegance-of-adobe/
We thoroughly enjoyed the design process with architect Clint Miller, clintmillerarchitect.com, whose vision for this home was so inspirational!
More Press…
The kitchen in a home we completed recently is featured in the current issue of AZ-Lifestyle Magazine.  Last summer, this kitchen was one of 10 finalists in the National "Miele Call for Exceptional Kitchens" competition.  Link to article:  AZ-Lifestyle Magazine: Kitchens Take Center Stage.

Project Updates
Our newest project is going to be gorgeous home …. a contemporary home by Brissette Architects in Desert Mountain, which has sweeping views of the Valley, as well as east to Four Peaks and The Superstition mountains.
Design documentation and permitting continues on what we fondly refer to as our "mountain cabin" in Talking Rock (northwest of Prescott), designed by Dale Gardon Design:
Contemporary has many looks with this one featuring stacked ledge stone walls inside and out, copper accents on fascia and often fireplaces and of course, mind-blowing views.  Designed by Tom Mooney:
Our Desert Radius Contemporary home is finally coming out of the ground!  We started design and material specifications on this home in May of 2014, and will soon see in concrete what we have only imagined and designed in our heads to date!  Designed by PHX Arch. :
Meetings…
This summer has been full of meetings! One-on-one meetings are often how concepts are best communicated with craftsmen, who are creating the physical manifestation of our design visions. Here are some snapshots from them:
At Papagnos taking a tour of the slab fabrication equipment with clients, to show them how the cuts are laid out for a countertop: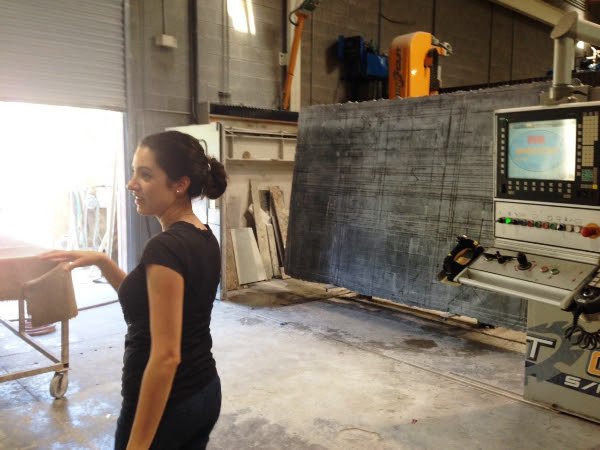 Meeting with contractor to measure and discuss groundwork for our custom fireplace wall: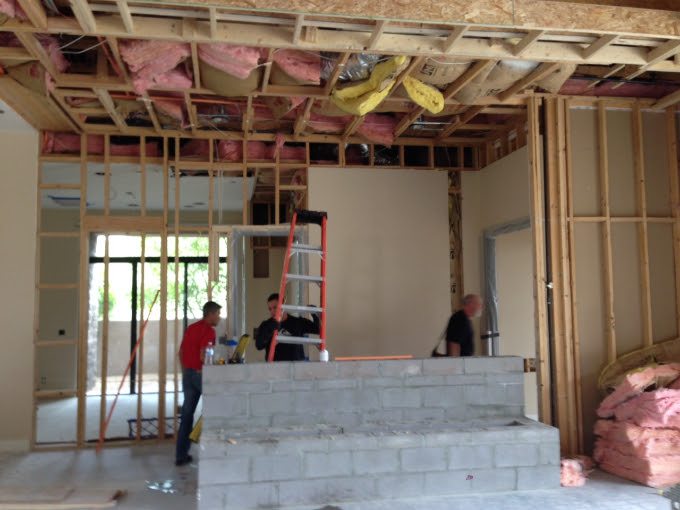 Discussing the design details of one of our Janet Brooks Design CAD elevation drawings: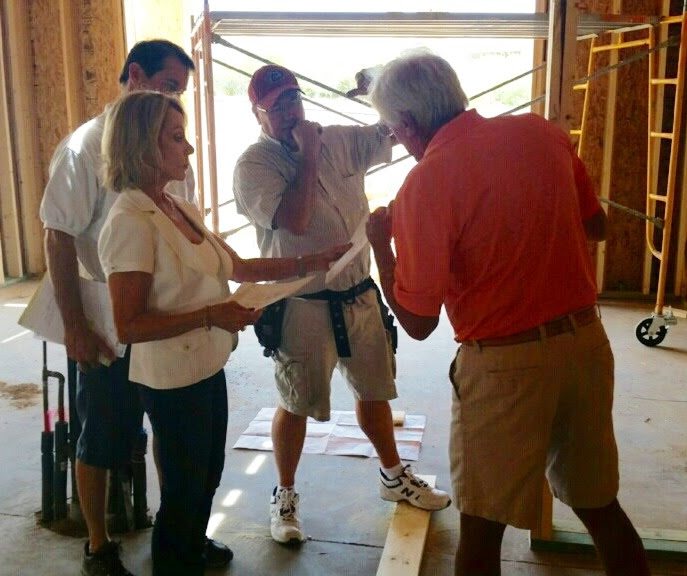 Reviewing cabinet drawings by Janet Brooks Design with client and the millwork guys from Woodesign who will create the magic:
At Sonoran Doors looking at door and hardware ideas for one of our contemporary projects: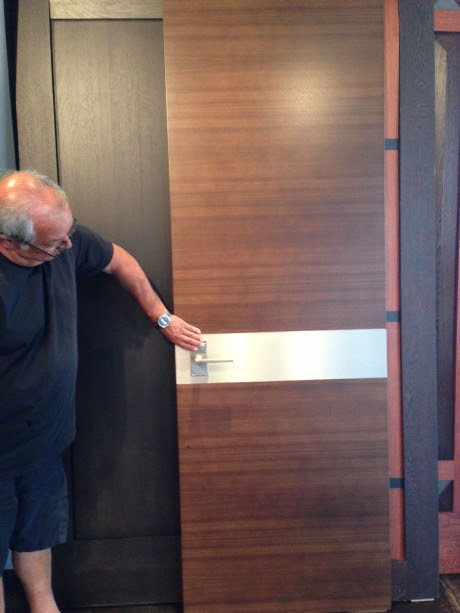 Site visit to our client's jobsite in Prescott.  Roof is loaded, framing is done, interior material finishes are starting to go in: