It isn't a secret that hardwood flooring can set a beautiful foundation for the design of a home. Since the flooring of a new-build or remodel is such an integral part of the design, it's important to choose the right hardwood from the beginning. When I first started practicing interior design in the west, Colorado and Arizona, hardwood flooring was usually delegated to offices and libraries in my clients' homes. Now, with the introduction of such a variety of engineered wood floors in a huge range of pricing, wood flooring has become more and more popular in place of wall-to-wall carpeting for bedrooms and main living spaces.
Solid hardwood vs. Engineered Wood
Solid wood flooring planks come directly from a single piece of hardwood and are then covered by a clear, protective covering. It expands and contracts according to the humidity in your home, which should ideally be kept between 45%-65% all year to prevent warping. This introduces some challenges in the dry heat of Arizona. Engineered wood flooring is the rage now, understandably, because it is beautiful, it's thin enough to be able to go down in place of tile or carpeting in remodels, it's pretty affordable, it doesn't warp, and it comes in a lot of wood species, plank sizes and finishes.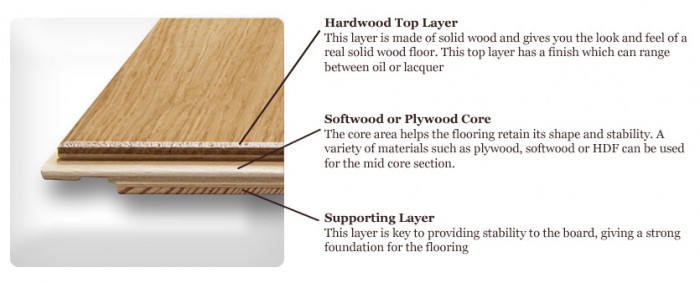 Cut
One of the most popular looks in engineered wood flooring is often labeled "French Oak" or "European Oak".  Of course we all think it's because the oak comes from somewhere in Europe, right?  WRONG.  The correct answer is that it is a style of cutting the wood, actually referred to as French Cut or European Cut, and it dates back more than a century.  By cutting a square straight across the full width of a log, they are able to capture a combination of all the different grains we are familiar with in one board:  quartersawn, riftsawn and plainsawn, as well as a variety of knot sizes.  

Color, Finish and Plank width
Choosing the color of hardwood flooring is an important element in the overall design of your home or room. In general, warmer-toned floors will make a room feel more cozy and cooler tones will give a more spacious feel. Cabinets, paint and furniture will all need to coordinate with the tone of the hardwood flooring.  Lighter, grayish-toned stain colors are very popular right now for contemporary and transitional homes, whereas more traditional spaces will probably incorporate a darker stain.
Finishes for hardwood floors vary from matte to glossy, depending on what sort of look you like best for the room. Glossy finishes tend to reflect more light, like in the above kitchen, but that light tends to illuminate dirt more than on matte floors. I rarely use a dark or glossy finish on wood floors here in Arizona unless I'm designing in a high-rise building.  It's just too impractical if you have foot traffic in and out of our dusty outdoor patios!
Plank width is another design decision when selecting your engineered wood flooring.  The trend now is toward wider plank width, from 7-9″ wide.  Wider planks fit beautifully with open floor plans and more minimalist design, because they are less visually "busy".  For smaller more traditional spaces, narrower boards (5-7″) work well as they are in keeping with the scale of the rooms.   I would never use a plank width less than 5″, unless you're building a gymnasium!
What about the trees?
Have you ever worried that our hardwood trees are being depleted? Worry no more!  In a recent search for wood paneling for a client, we talked to the experts, who tell us that:
There are 48% more trees over 11" in diameter than in 1977
Standing hardwood volume has doubled in the last 50 years
Between 2007 & 2012 the volume of hardwood "growing stock" increased in every Eastern hardwood species

(Source: 2012 U.S. Forest Service Study)

And….An even more recent study by Yale University estimated that only about 20% of the annual new growth in our hardwood forests is being harvested each year, so our hardwood forests are continuing to gain strength.  That's a relief, because we love to use a lot of beautiful wood in our design projects!