Janet Brooks Design – All-American Style: Southwestern Interior Design
While driving through some of the more visible and affluent areas of the greater Phoenix area, it becomes very noticeable that residents really hold true to the great American design style – Southwestern design. There are some slight differences going from the neighborhood of Arcadia in Phoenix – which has a major Spanish influence, past Camelback Mountain into Paradise Valley – which is a real melting pot of traditional and modern southwest architecture. Then the short trip through the growing area of northeast Phoenix to North Scottsdale through the undeveloped desert up to Carefree and Cave Creek where all these regions seem to have embraced the American architecture in all its forms – traditional, modern, and contemporary. I know that the inside of these homes exhibits interior designs with similar motifs. I know – because we have designed lots of them.
It is comforting to see that we as a region are acclimating to the desert and its beauty instead of trying to change it. I started to think about why I am so drawn to and inspired by Southwestern design and all its variations. I think it is because when it comes to American interior design and architecture, there are very few styles that are unique to the United States.
The Southwest aesthetic is undeniably one of the most iconic representations of American style. But what is it that makes Southwestern design all-American? The main influences came from Native Americans, Spanish settlers, and cowboys, who all brought different elements to the architecture and design of the region.
Southwestern Design 101:
Desert-inspired Color Palettes: Southwestern color trends have changed through the decades. At the turn of the century, white plasters, dark wood tones, and terracotta clay tiles made up the primary color palette, with the occasional burst of turquoise. In the 1980s, the Southwestern style was dominated by muted pastels inspired by desert sunsets. Today, the Southwestern style gravitates towards natural hues from the landscape, including rust oranges, cowhide browns, and terracotta reds.
Nods to the American Landscape: Southwestern interior design takes inspiration from the desert landscape of the region. Nods to the landscape include desert photography, potted succulents and cacti, scenic paintings, and even cow skulls and taxidermy.
Layered and Diverse Textiles:  Influenced by Native Americans, the Southwestern style incorporates various textiles, animal hides, stones, gems and baskets. Textiles are dispersed throughout the home, from floor rugs to furniture accents to wall hangings.
A Mix of Woods, Metals, and Leathers: Southwestern style relies on rustic materials, including hard-carved wood, hand-hammered metals, and leather. These often dark and heavy materials are showcased and brightened when paired with the white plaster walls associated with the style.
The Southwestern Design Roots
When it comes to all-American interior design styles, influence is drawn from not only the landscape but also the groups of people who settled here. In the case of Southwestern design, the look was influenced by Indigenous peoples – dotted by several different tribes – from the Hopi to the Navajo and beyond. Then the Spanish settlers, and American cowboys. The Navajo inhabited the Southwest long before any other group. Their impact on the design style can be seen in bold textiles and iconic artisan crafts. The Hopi enhanced that with bolder colors and more natural stone. Spanish settlers brought building techniques from Spain. They utilized adobe for tiles, white stucco for walls, wood beams, and wrought iron accents. Cowboys brought the "Wild West" element to Southwestern design, primarily seen in leather, cowhide, and animal-inspired motifs.
Modern Southwestern Design is Back in Style Today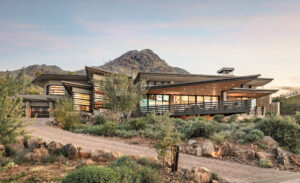 While Southwestern design went off track in the 80s, today it is making a more refined return. The new Southwest style seeks to mix warm textiles, colors, and artisan crafts alongside contemporary furnishings for a streamlined interpretation that still feels authentic to the region. Handwoven rugs and rich leather sofas have found their home among crisp white walls and sleek chandeliers. Southwestern design has really taken a maturing and welcome trip from its infancy at its outset and teen years in the 80s, to the refined and welcoming designs of today.
Contact our design team today so we can create a design plan that fits your budget as well as your dreams while keeping in line with these current and future interior design trends.